Office seating is one of the main part of any office decor. Ergonomic office chair provides back support, promotes healthy and natural body position or help you maintain a good sitting posture to alleviate back pain or neck pain and sit comfortable. The comfortable office chair can help you more focus on work so that to improve productivity and efficiency.
Now there are various options and brands of office furniture on the market, how do you know which office seating solution is best for you? Are you worried with so many office furniture suppliers available in the market?
Tevson Office Furniture is a great choice for you. Tevson office chairs are not only with unique and stylish appearance but also with good physical mechanics. All can meet BIFMA standard. In order to provide better practicality and durability, some office chairs for sale are designed with plastic back which truly give back support for users, using new and environmental friendly plastic material which is more healthy, safety, durable, strong anti impact strength and not easy broken.
Take a look at the comparison between of Tevson and Others.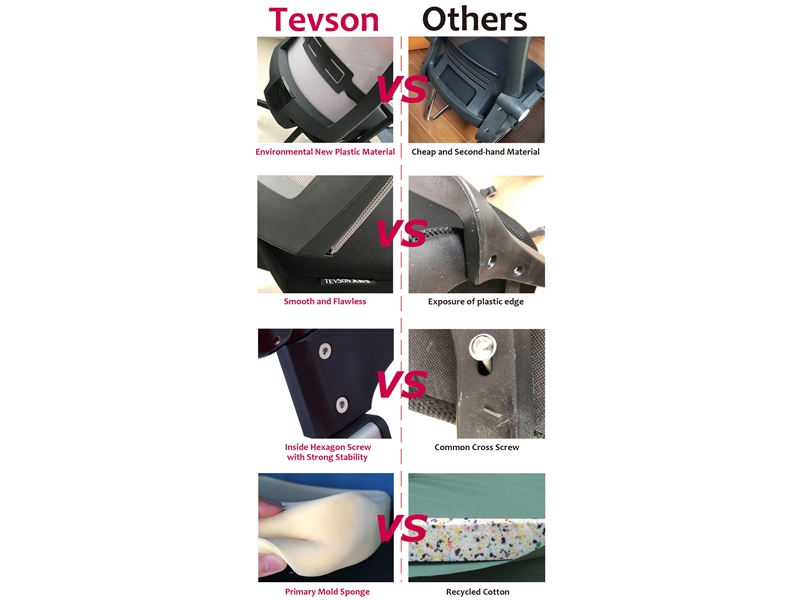 Tevson chooses environmental new plastic material rather than cheap and second-hand material, By superior injection technique, the plastic part is smooth and flawless while others are with so many plastic edge which could even hurt yourself. Regarding the furnishing fittings, Tevson prefers strong stability and high-quality hexagon screw rather than common cross screw, which could provide greater connection and stability. The good sponge is one of major factors of a good chair. Comparing with cheap and uncomfortable recycled cotton, the primary injection mold sponge is priority selection of Tevson desk chairs which offers best comfort to users and not easy deformation, last for long. Tevson modern office chairs with guarantee quality, offer premium comfort at an affordable price.
If you consider to buy new office furniture, Tevson office chairs are good investment for you.